Posts for tag: periodontal disease
By Digiorno Dental Fitness
September 30, 2018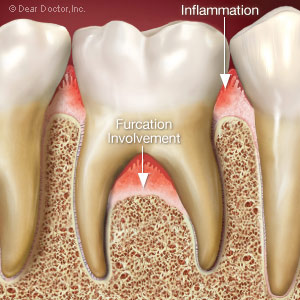 Periodontal (gum) disease is a serious matter. Not only can it wreak havoc with your gums, it could also cause bone loss in the jaw that supports your teeth.
Gum disease is a bacterial infection that originates from a thin film of food particles on tooth surfaces called plaque. If you're not diligent about removing plaque through daily brushing and flossing, it can become a feeding ground for certain strains of bacteria that trigger gum infections. Left untreated, the disease can advance deeply into the teeth's supporting structures.
We're particularly concerned about furcations, the specific locations where multiple roots of a tooth fork or separate. When these locations become infected we call it a furcation involvement or invasion. The bone along the furcation will begin to deteriorate and dissolve, following a progression of stages (or classes) we can measure by probing the gum tissue or through x-ray evaluation:
Class I: the furcation feels like a groove, but without any noticeable bone loss;
Class II: a depression of about two or more millimeters develops indicating definite bone loss;
Class III: Â bone loss now extends from one side of the root to the other, also known as "through and through."
Treating furcation involvements can prove challenging because the infection is usually well below the gum line (sub-gingival). As with all gum disease treatment, our primary approach is to remove all plaque and calculus (hardened plaque deposits) where we find it, including around the roots. We typically use specially shaped instruments to clean the root surfaces. We can also employ an ultrasonic device that loosens plaque and calculus with high-frequency vibrations and flushed away with water.
Sometimes, we may need to surgically access involved furcations to clean them and stimulate bone growth with grafting. We can also use surgery to make the areas easier to clean — both for you and for us during your regular office cleanings — to prevent reoccurrences of infection.
Of course, preventing gum disease in the first place is your best defense against oral problems like furcation bone loss. Be sure you brush and floss every day, and visit us for thorough cleanings at least twice a year (unless we recommend more). This will help make sure not only your gums, but the bone that supports your teeth stays healthy.
If you would like more information on treating periodontal (gum) disease, please contact us or schedule an appointment for a consultation. You can also learn more about this topic by reading the Dear Doctor magazine article "What are Furcations?"
By Digiorno Dental Fitness
April 24, 2017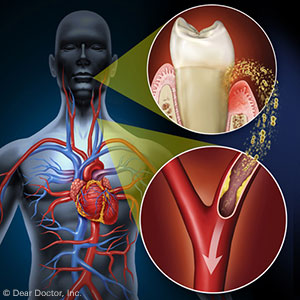 If you have periodontal (gum) disease, it's important for you to know its effects aren't limited to your mouth. A number of studies demonstrate gum disease can affect the rest of your body — and what may be going on elsewhere could likewise stimulate gum disease.
Here are 3 diseases or conditions that seem to share a link with gum disease.
Diabetes. This chronic disease results from the body's inability to interact properly with insulin, the hormone necessary for turning glucose (sugar) into energy, or producing enough of it. There's clear evidence that having diabetes increases your risk of gum disease and vice-versa. If you have diabetes, it's important that you keep it under control for your gum's sake as much as for your overall health.
Cardiovascular disease. Like diabetes, this group of heart and blood vessel diseases has a related characteristic with gum disease: inflammation. This natural function of the immune system limits tissue damage caused by disease or injury. But in both CVD and gum disease, inflammation can become chronic and itself cause damage. Further, some types of bacteria associated with gum disease can contribute to a higher risk of CVD. Minimizing gum disease occurrence with good oral hygiene could positively impact your risk of CVD.
Pregnancy. While certainly not a disease, pregnancy does trigger hormonal changes in the mother that in turn could elevate her risk of gum disease, particularly pregnancy gingivitis. Not only does this pose problems for the mother's teeth and gums, some studies connect gum disease to the increased possibility of early, pre-term birth. A sharper focus on dental care during pregnancy not only benefits the mother but may also be important for the health of the baby.
These aren't the only conditions that can be affected by gum disease: others like osteoporosis, respiratory disease or rheumatoid arthritis also share links with the disease. If you have any systemic condition like these, it pays to be extra vigilant in preventing and treating gum disease.
If you would like more information on periodontal (gum) disease, please contact us or schedule an appointment for a consultation. You can also learn more about this topic by reading the Dear Doctor magazine article "Good Oral Health Leads to Better Health Overall."
By Digiorno Dental Fitness
January 31, 2017
It takes only a short time neglecting your oral hygiene before you begin to notice some unpleasant things with your gums: swelling, redness or even bleeding. These are all signs of gingivitis, a periodontal (gum) disease that arises from bacterial plaque, a thin biofilm that builds up on tooth surfaces when a person doesn't brush or floss.
Fortunately, early stages of gingivitis can be treated effectively with comprehensive plaque removal during one or more office visits. If, however, it's not dealt with early, it can develop into something much more serious: acute necrotizing ulcerative gingivitis (ANUG). This form does more than leave you with unattractive teeth and gums and terrible breath — it could eventually cause you to lose your teeth.
ANUG is also known as trench mouth, a common ailment among front line World War I soldiers without access to proper dental care and hygiene. It's most prevalent today among individuals who are under a great deal of stress, not sleeping or eating well and haven't cleaned or properly cared for their teeth for an extended period of time. Tobacco smokers also seem more susceptible than non-smokers to the disease, perhaps because smoke dries the mouth and changes the bacterial environment.
Unlike common gingivitis, ANUG can be quite painful. In effect, the gum tissues begin to die (necrotize), especially the triangular peaks between teeth known as papillae. Besides the other symptoms of gingivitis, the tissues may become yellowish.
ANUG can be treated effectively. The first step is to relieve the symptoms of pain and inflammation through medication. The focus then shifts to treating the underlying cause, bacterial plaque. Besides plaque removal common in any treatment for gum disease, we may also need to initiate antibiotic therapy. Metronidazole is a common antibiotic that's been demonstrated effective against the specific bacterial strain associated with ANUG. We might also combine this with an antibacterial mouth rinse containing chlorhexidine.
The final step belongs to you: to keep ANUG or any other gum disease from reoccurring, it's important for you to adopt a daily regimen of brushing and flossing, along with regular dental visits for thorough teeth cleaning and checkups. Taking this proactive approach will help ensure you won't suffer from this painful and unattractive form of gingivitis again.
If you would like more information on acute gingivitis, please contact us or schedule an appointment for a consultation. You can also learn more about this topic by reading the Dear Doctor magazine article "Painful Gums in Teens & Adults."