Posts for: September, 2018
By Digiorno Dental Fitness
September 20, 2018
Dental crowns are an essential means for restoring damaged or unattractive teeth. A well-crafted crown not only functions well, it looks and blends seamlessly with the rest of the natural teeth.
Crowns are artificial caps that cover an entire visible tooth, often used for heavily decayed or damaged teeth or as added protection after a root canal treatment. Most crowns are produced by a dental lab, but some dentists are now creating them in-office with computer-based milling equipment. On the whole, the various crowns now available function adequately as teeth—but they can vary in their appearance quality.
In the early to mid 20th Century the all-metal crown was the standard; but while durable, it could be less than eye-pleasing. Although more life-like dental porcelain existed at the time, it tended to be brittle and could easily shatter under chewing stress.
Dentists then developed a crown that combined the strength of metal with the attractiveness of porcelain: the porcelain fused to metal or PFM crown. The PFM crown had a hollow, metal substructure that was cemented over the tooth. To this metal base was fused an outer shell of porcelain that gave the crown an attractive finish.
The PFM reigned as the most widely used crown until the mid 2000s. By then improved forms of porcelain reinforced with stronger materials like Lucite had made possible an all-ceramic crown. They're now the most common crown used today, beautifully life-like yet durable without the need for a metal base.
All-ceramics may be the most common type of crown installed today, but past favorites' metal and PFM are still available and sometimes used. So depending on the type and location of the tooth and your own expectations, there's a right crown for you.
However, not all crowns even among all-ceramic have the same level of aesthetic quality or cost—the more life-like, the more expensive. If you have dental insurance, your plan's benefits might be based on a utilitarian but less attractive crown. You may have to pay more out of pocket for the crown you and your dentist believe is best for you.
Whatever you choose, though, your modern dental crown will do an admirable, functional job. And it can certainly improve your natural tooth's appearance.
If you would like more information on dental restorations, please contact us or schedule an appointment for a consultation.
By Digiorno Dental Fitness
September 10, 2018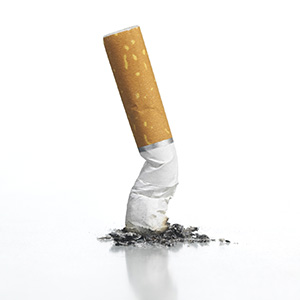 With a 95-plus percent survival rate after ten years, dental implants are one of the most durable replacement restorations available. Implants can potentially last much longer than less expensive options, which could make them a less costly choice in the long run.
But although a rare occurrence, implants can and do fail—often in the first few months. And tobacco smokers in particular make up a sizeable portion of these failures.
The reasons stem from smoking's effect on oral health. Inhaled smoke can actually burn the outer skin layers in the mouth and eventually damage the salivary glands, which can decrease saliva production. Among its functions, saliva provides enzymes to fight disease; it also protects tooth enamel from damaging acid attacks. A chronic "dry mouth," on the other hand, increases the risk of disease.
The chemical nicotine in tobacco also causes problems because it constricts blood vessels in the mouth and skin. The resulting reduced blood flow inhibits the delivery of antibodies to diseased or wounded areas, and so dramatically slows the healing process. As a result, smokers can take longer than non-smokers to recover from diseases like tooth decay or periodontal (gum) disease, or heal after surgery.
Both the higher disease risk and slower healing can impact an implant's ultimate success. Implant durability depends on the gradual integration between bone and the implant's titanium metal post that naturally occurs after placement. But this crucial process can be stymied if an infection resistant to healing arises—a primary reason why smokers experience twice the number of implant failures as non-smokers.
So, what should you do if you're a smoker and wish to consider implants?
First, for both your general and oral health, try to quit smoking before you undergo implant surgery. At the very least, stop smoking a week before implant surgery and for two weeks after to lower your infection risk. And you can further reduce your chances for failure by practicing diligent daily brushing and flossing and seeing your dentist regularly for cleanings and checkups.
It's possible to have a successful experience with implants even if you do smoke. But kicking the habit will definitely improve your odds.
If you would like more information on dental implants, please contact us or schedule an appointment for a consultation. You can also learn more about this topic by reading the Dear Doctor magazine article "Dental Implants & Smoking."